Spandex 4 Men
Spandex Sportswear
Tights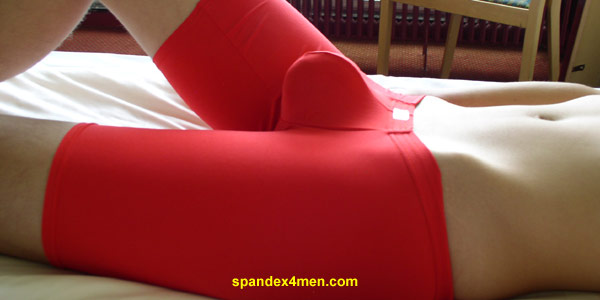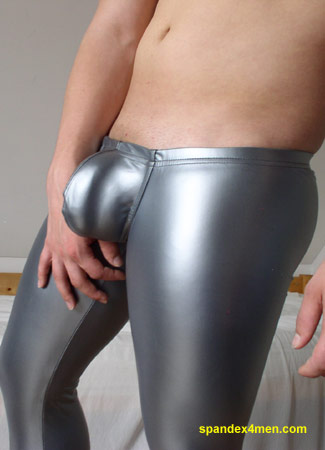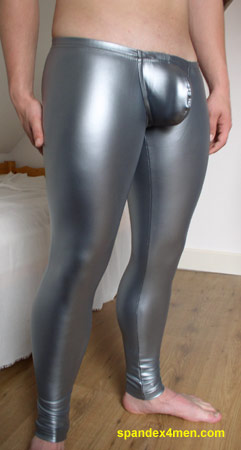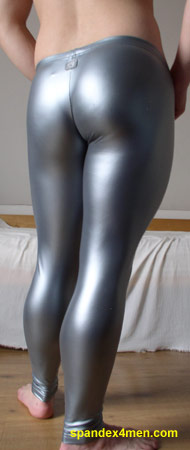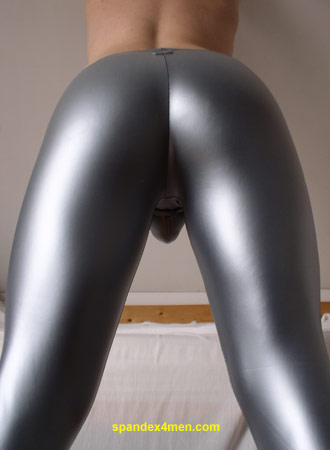 Liquid Skin Runners / Running tights, E45.00
Low cut style running tights with eye-catching silver-look and anatomically formed pouch.
Feels like a second skin and the fabric is nice and smooth.
S: 26-30"
M: 30-34"
L: 34-38"
XL: 38-42"
Currently in stock: S and M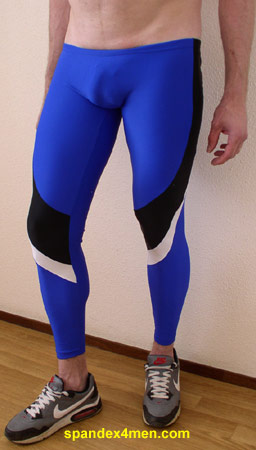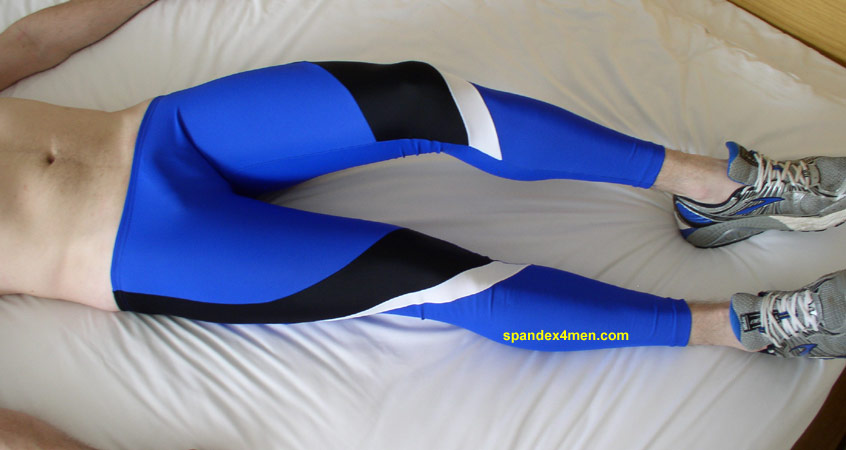 Skin Runners / Running tights 2014, E36.00
Low cut style running tights with a great colour pattern. See pics!
Awesome smooth fabric!
S: 26-30"
M: 30-34"
L: 34-38"
XL: 38-42"
Currently in stock: Blue in M and L. Lime Green: M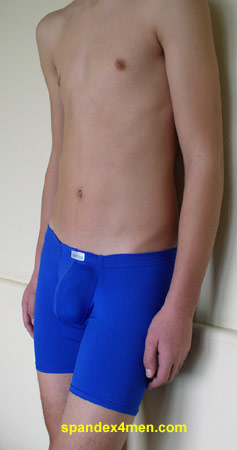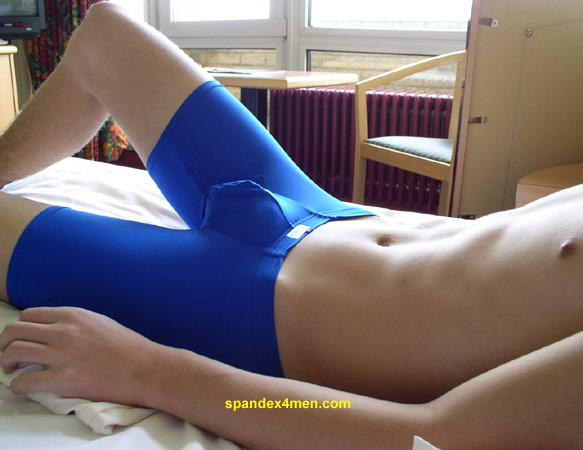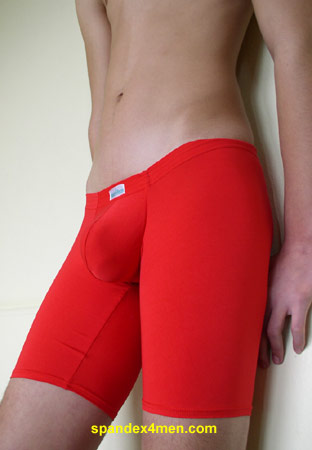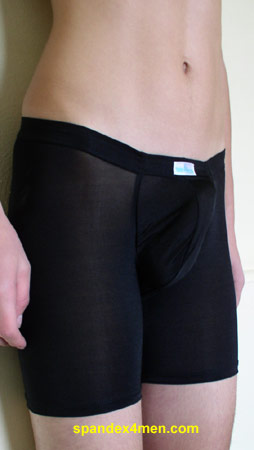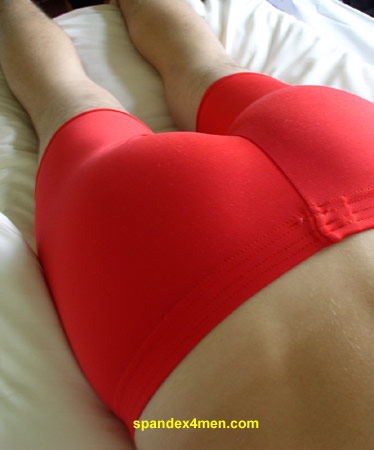 Spandex4Men Bulge Shorts / Short Runners / Running tights, E35.00
Exclusively produced for Spandex4Men, so nowhere else in the world available, is this short version of the Bulge Runners as listed below. Also with anatomically formed pouch.
The spandex fabric of the red and royal blue shorts is extremely smooth and super comfortable. The black one too, but that one is very thin and therefore quite see-through (onion skin).
The rear seam of these runners is elastic so that the seam is pulled in between your "cheeks". This makes your ass look awesome in these new shorts!
For more pics (erotic!) of the royal blue Bulge Shorts you can visit www.spandeXXX4men.com (for adults only!)
Wash separately the first few times and on low temperatures.
Size S: 28-30" (69-74cm) In stock: black
Size M: 31-34" (75-83cm) In stock: black
Size L: 35-38" (84-93cm) In stock: black



Arroyman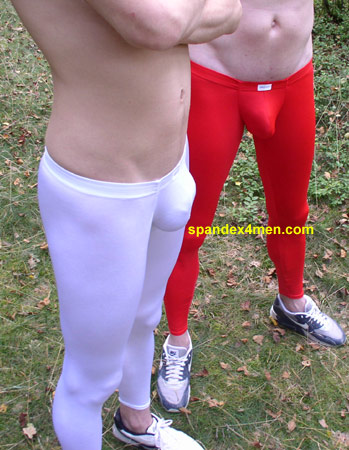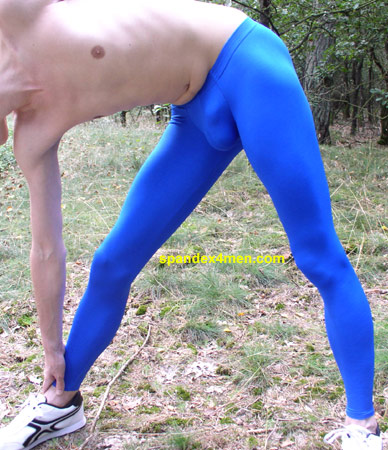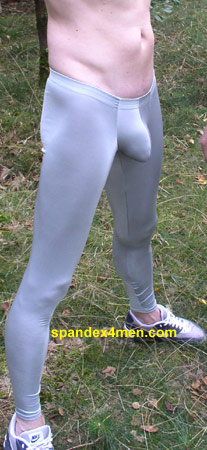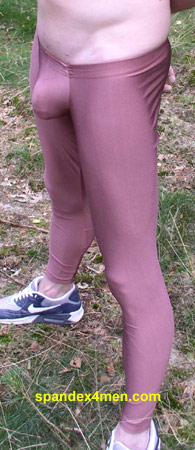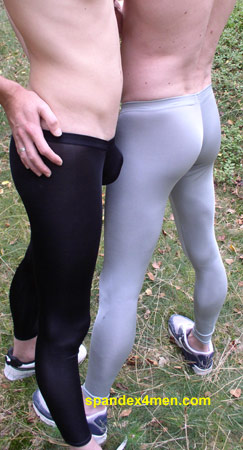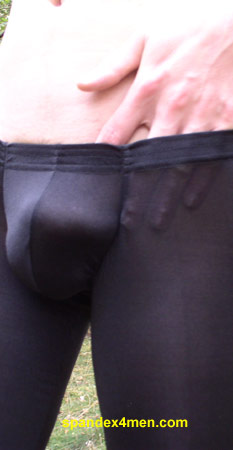 Bulge Tights / Runners / Running tights, E42.00
New in Europe are these running tights with an anatomically shaped pouch in many colours.
The spandex fabric of the red and royal blue tights is extremely smooth and flexible, the black one too, but that one is very thin and therefore quite see-through (onion skin), see last picture.
The rear seam of these runners is elastic so that the seam is pulled in between your "cheeks". This makes your ass look awesome!
For more pics (erotic!) of the white Bulge Runners you can visit www.spandeXXX4men.com (for adults only!)
Wash separately the first few times and on low temperatures.
Size S: 28-30" (69-74cm) In stock: terracotta
Size M: 31-34" (75-83cm) In stock: --
Size L: 35-38" (84-93cm) In stock: --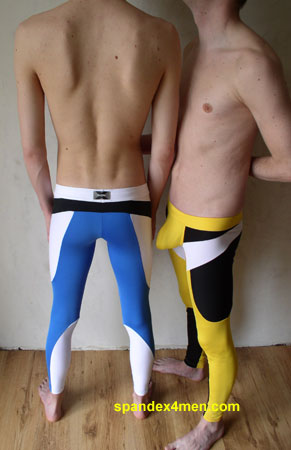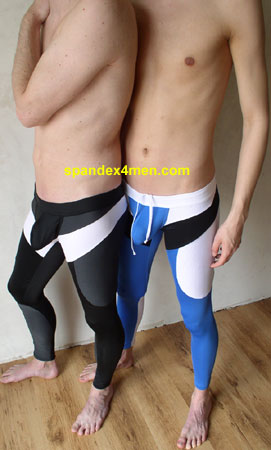 Performance-X Runners / Running tights, E39.00
"Next level" running tights made of very comfortable, special spandex fabrics that wick perspiration away from your body rapidly and are partially made of recycled materials.
With push-up pouch and a very comfortable waist band with drawstring.
Last one: size Large for waist size 34-38" in Royal Blue.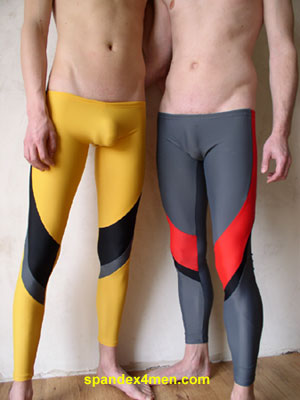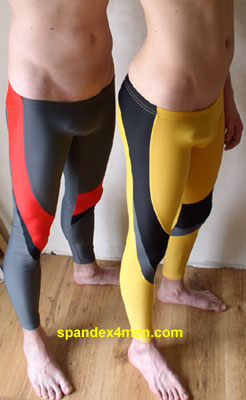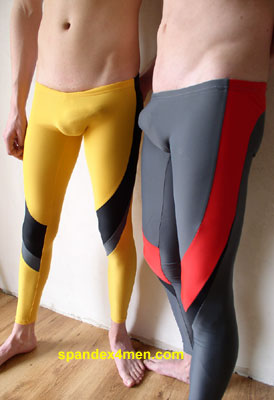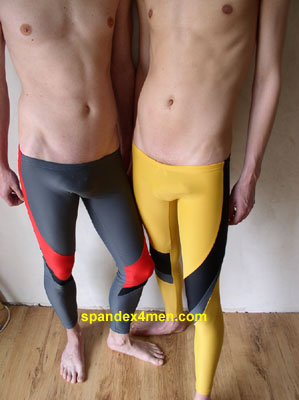 Skin Runners / Running tights, E36.00
Low cut running tights with eye-catching contrast lines. See pics.
Extremely comfortable and smooth spandex fabric!
S: 26-30"
M: 30-34"
L: 34-38"
XL: 38-42"
Currently in stock: Harvest Gold M. Grey M.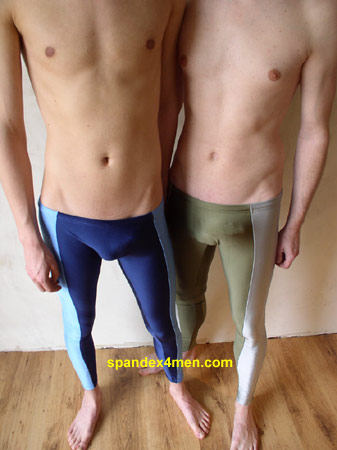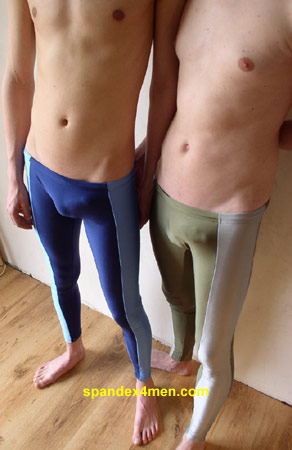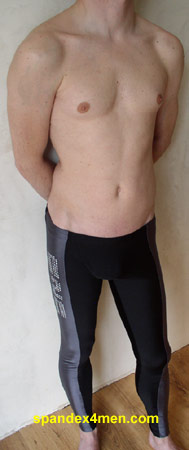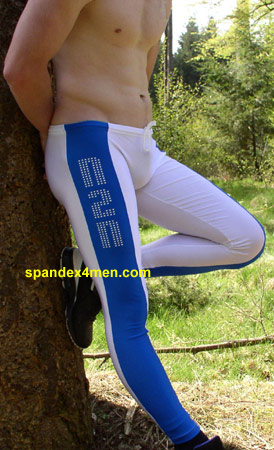 Galaxy Runners / Running tights, E36.00 (2 pcs for E65.00)
Low cut running tights. Microfibre fabric made of 83% nylon, 17% spandex.
In stock current collection: Navy size S, M. Army M, L. Black S, M, L. Other sizes are available on order.
In stock previous collection: White-Blue size S. Gone = gone, this colour can't be ordered in other sizes anymore.
S: waist 26-30"
M: waist 30-34"
L: waist 34-38"
XL: waist 38-42"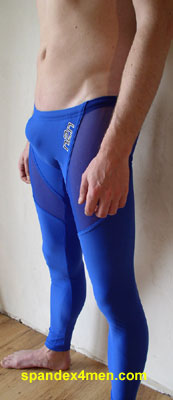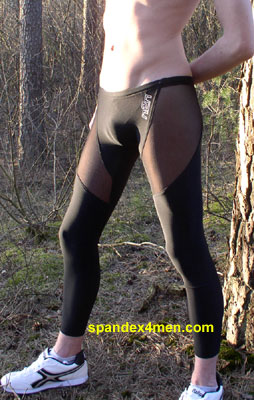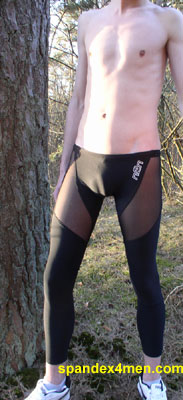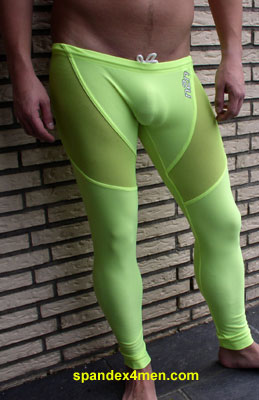 Erotic Running tights E39.00
Do you have the guts to run on the streets in these tights? ;-)
Very low cut and partially of a transparent net-fabric for that sexy look. It's play time!
In stock in Black size S, L. STUNNING-neon-yellow (the neon can't be caught on pic very well, but it's really STUNNING!) size S. From the Yellow Medium also a cheaper one with some cola stains caused during the photo shoot.

S: waist 26-30"
M: waist 30-34"
L: waist 34-38"
XL: waist 38-42"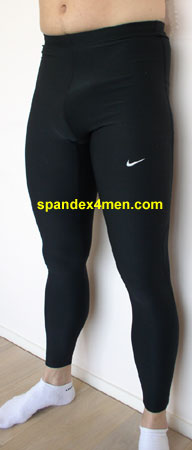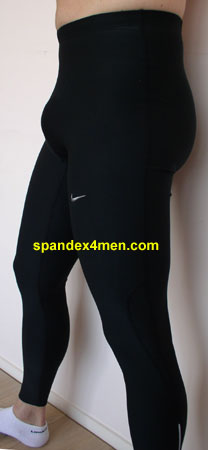 Nike Filament Tights / Runners, E35.00
A bit thicker Nike Dri-Fit fabric, 92% polyester and 8% spandex. Ideal for running during colder periods.
Pocket with zipper on the back for keys or money, drawstring in the waist band. Reflecting stripes and zippers at the lower legs.
In stock in size S, M, L.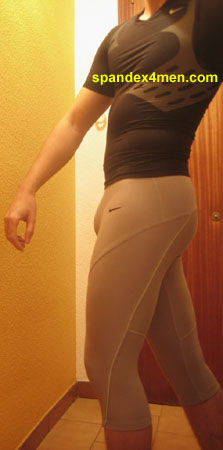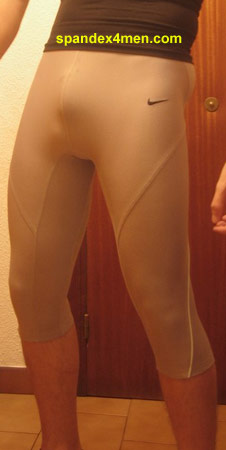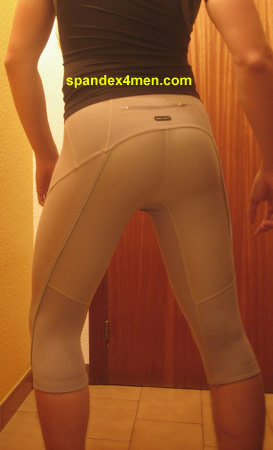 Nike Runners / Running tights, E34.00
3/4 long grey running tights. The real colour is a bit darker than appearing on the pics.
With a drawstring cord in the waistband and a zipperpocket on the back for storing a key or some money. Two narrow reflecting stripes going from the 'cheeks' via the side of the upper legs to just below the knees.
Made from Nike Dri-FIT fabric that wicks away perspiration, front 81% polyester and 19% lycra/spandex, back 92% polyester and 8% spandex.
In stock: (gone = gone!)
L (1.83m / GB42-44 / D52-56)




UNDER ARMOUR is a fast growing and popular sportswear brand in the USA. Why? Simple: they make perfect spandex tights for every (pro)sportsman. By a specially developed spandex fabric the perspiration is sucked away from the skin very fast, so that the body stays dry.
After your workout or competition you do a quick washing and a few hours later the tight is ready for take off (on :-) ) again.

Waist sizes:
S: 27-29"
M: 30-32"
L: 33-35"
XL: 36-39"
XXL: 40-44"
Tip: Are you in between 2 sizes, please take the larger size, because they fit really tight.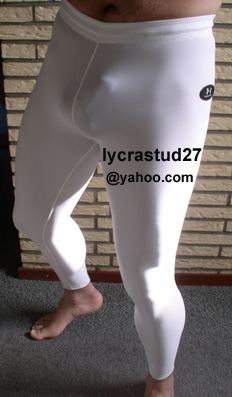 Under Armour Tight / Legging, E30.00
Black: XL
White: XXL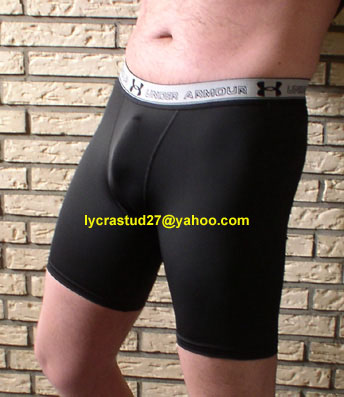 Under Armour Compression Short, E22.00
Black: XL






How can I order?
Index EN