Spandex 4 Men
Spandex Sportswear
Cycling Skinsuits / Time Trial suits




If you are in doubt about the size you need, then let me know your body length, weight, waist size and chest size (measured under your armpits) and I'll send you an advice.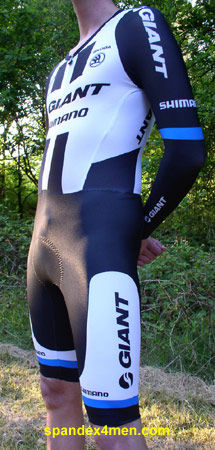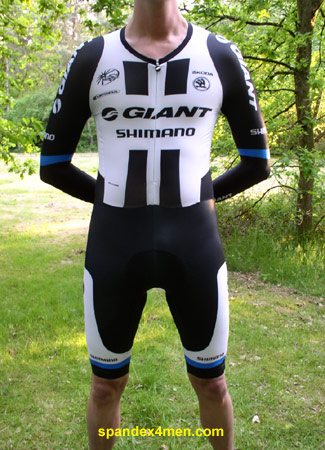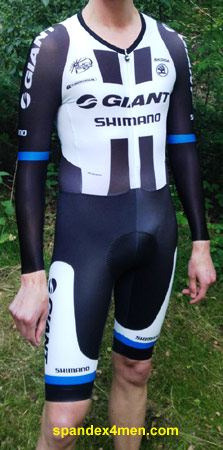 GIANT Shimano Pro-Cycling Team 2014 Long Sleeved Timetrial suit / Skinsuit / Speedsuit, E100.00 (size S), E175.00(M)
Often seen at the big Tours in 2014 this is the long sleeved skinsuit from the Giant-Shimano Team with Marcel Kittel.
Nice thin and smooth LycraŽ fabric that fits around your body like a 2nd skin for excellent aerodynamics, produced by Etxeondo.
The model on the pictures is 1.88m/6'2" tall, 72kg/158lbs with waist size 32". He wears size M that fits perfectly tight, great for a timetrial where suits need to fit really tight.
For a longer ride a size L would fit him more comfortable. He noted that all details and quality of the suit show that it is made for pro-cyclists.
Still available in sizes S and M. See sizing table below.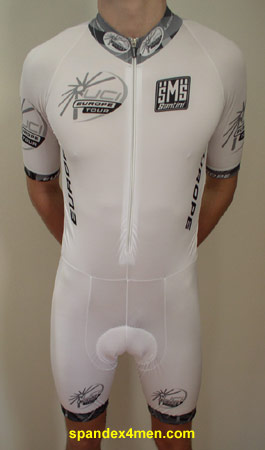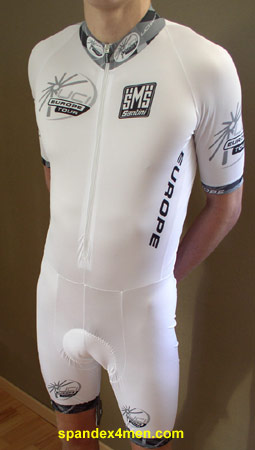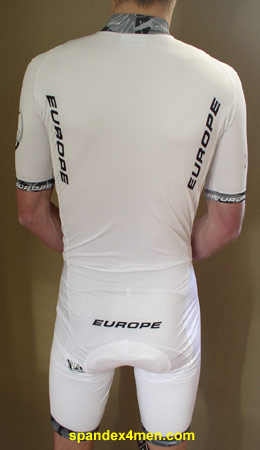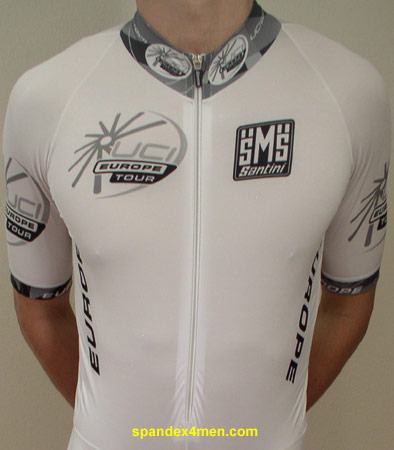 UCI Europe Tour Timetrial suit / Skinsuit / Speedsuit, E125.00
Nice white Santini suit in size M.
The boy on the pictures is 1.78m/5'10" tall and weighs 64kg/140lbs, the skinsuit fits him perfectly tight!
Only one suit available.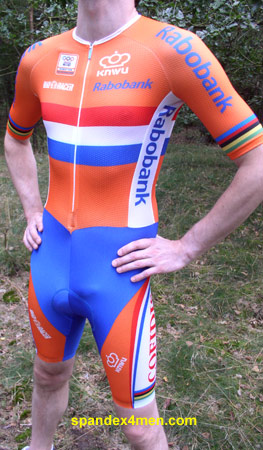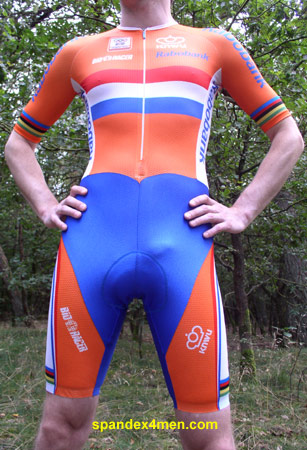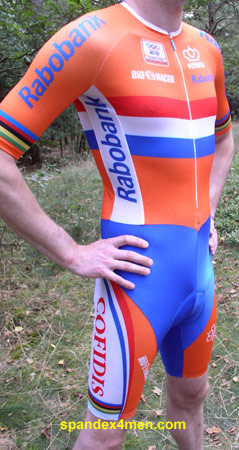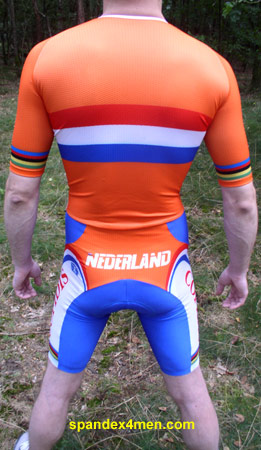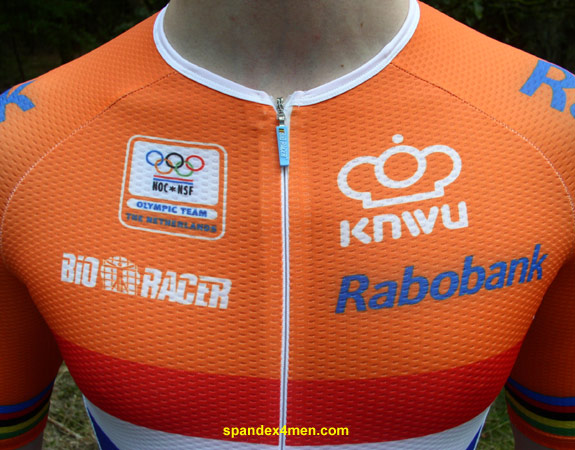 RABOBANK World Champion Track Cycling Timetrial Skinsuit / Speedsuit, E250.00 (incl. registered shipment within Europe)
Unique cycling suit specially made for a Dutch World Champion track cycling. The UCI rainbow stripes tell you that this suit belongs to a World Champion.
Cyclists who have ever been World Champion on a certain distance can wear these rainbow stripes during future competitions.
Great thin lycra fabric that fits like a second skin around your body.
Because it is a custom made suit (but still unworn, except for the pictures), the size is not exactly comparable with a certain standard, but it will be between Medium and Large.
For your reference: the guy on the pictures is 1.81m (5'11") and 72kg (159lbs). Specially regarding the length of the suit there is still enough space.
Only ONE suit available, so be fast if you want to have this suit on your body.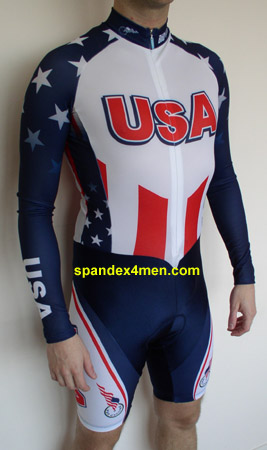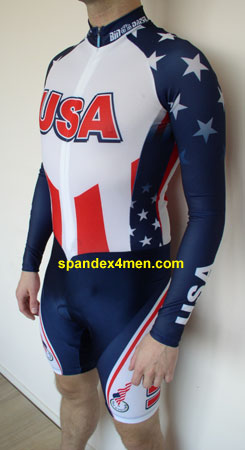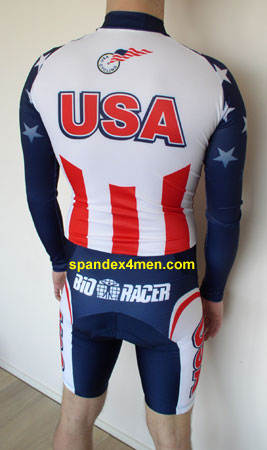 BioRacer USA Skinsuit / Time trial suit, E120.00
Great skinsuit, long sleeved from high quality brand BioRacer, made for the USA national team.
The guy on the pictures is 1.82m (6') tall and weighs 79kg (175lbs). The suit (size Medium) fits him well, but you can easily be some taller or heavier for a good fit.
Also available in size S.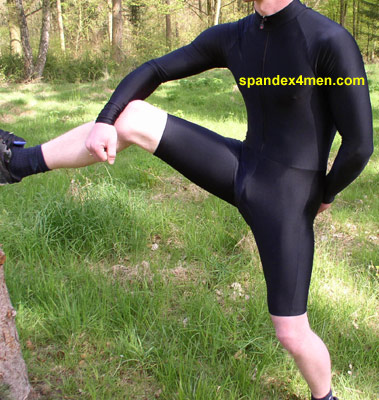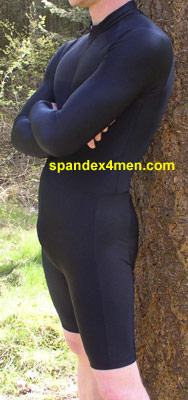 Black Skinsuit / Timetrial suit, E67.50
Made of a nice thin spandex fabric with a CoolMax chamois. Also well suited for mountainbiking and cyclocross.
The slim built, muscled model on the pix is 1.78m (5'10") tall and weighs 76kg. This skinsuit in size M has a perfect fit on his body.
Suited for well trained/muscled cyclists from approx 1.73m (5'8") till slender boys up to max. 1.85m (6'1").
In stock in size M, other sizes and colours on request.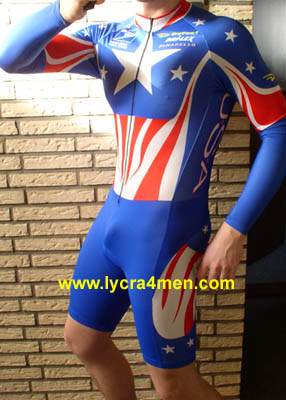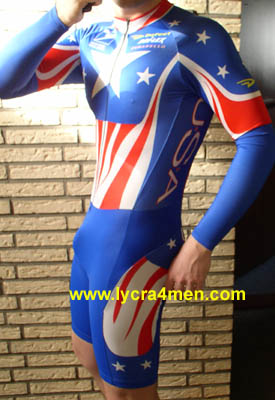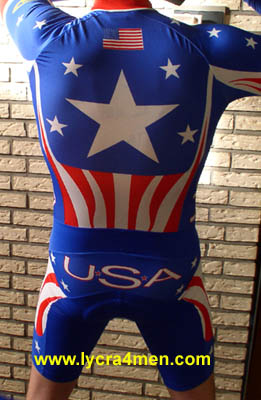 USA National Team Cycling / Timetrial Skinsuit, E165.00
This was the official longsleeved skinsuit for the USA National Team of young professional cyclists until 23 yrs old.
Used during only one or a few timetrials, so in perfect condition, there are only a few small pinholes on the back.
Made of a very thin spandex fabric with padded seat (quite low) and elastic grippers on the legs.
Size M (about 1.75m-1.87m/5'9"-6'2")
Size L (about 1.83m-1.95m/6'-6'5") Last one





How can I order?
Index EN